"A roman à clef based on a lawyer's journal puts him in the cross hairs in this legal thriller…. (O'Neill) orchestrates his complicated, twisty plot toward an unexpected and satisfying conclusion… A well-plotted and dense courtroom tale." (Kirkus Reviews, 2017).
She's so thin, too thin, he thought.
She shrugged him off. Her head moved to the right to avoid his proffered lips, tilting her cheek away, and issued a tortured smile. She leaned back against the sink and popped a handful of Cheerios into her mouth, right out of the box.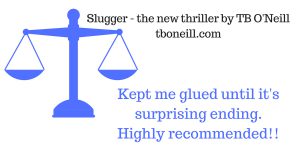 "So, you're off to algebra class, I guess?" he asked inanely, forcing cheer into his voice.
She answered with a tight curl of her lips, while, improbably, the whole of her face pulled back as if in a wind tunnel. Of late, she disliked morning conversation, and the triviality of the question apparently proved to be offensive. He backed away, nudging the stove with his hip, and crossed his arms protectively. It was going to be another one of those days, he thought. She bent toward the sink, holding her long blonde hair back, and drank from the faucet. He waited. She cranked the faucet tight.
"We can expect more rain today," he said.
She nodded, offered another thin, tortured smile, then dismissed him with a flip of her hand, grabbing her coat and backpack from the chair, and with a young girl's nimble stride crossed the kitchen and dining room to the front door. Without the pretense of civility, the door slammed shut, rebuffing him too.
"Shit! Why the hell can't I get it right!" he called out to the empty house. His face warmed. "What kind of father are you? Get your ass up in the morning and make her a decent breakfast."
Grabbing the edge of the breakfast table, his fingers turning white, he lifted it a few inches and let it fall and crash. Brindle scurried down the hall, paws clattering away. Today he'd go to Colliers and buy a damned alarm clock, digital or not. He sighed but knew that by mid-day he'd have pushed the guilt away. That too was a weakness. Eventually, he'd get this right. But the drinking didn't help.
"I'll stop after one tonight," he promised the empty room. "Just one before bed." The room chose not to reply.
His drinking began with his separation from Julianne, when he did what most men do; he moved out, into a house where there was no one to keep him company except his eighteen-year-old scotch. That's when his relationship with Mr. Glenlivit became intimate.
The ancient, pink, princess phone rang and rattled against the wallpaper. Seeing the phone there comforted him. Like the rest of the old house, the kitchen had been decorated by an older woman with, particularly feminine taste.   He'd hoped the home's colorfully warm décor, painted or papered mostly in blues and yellows, would be an inviting place for his daughters.
He reached for the phone. "Hello."
"Mr. Cavanaugh? Are you awake?"
"Brooke?"
"It's me."
"What do you need?"
"I can't just keep putting off Charlotte Emery. Should I just tell her the usual—that you don't comment on cases before trial?"
"Why are you calling so early, and what are you doing at the office?" He imagined Brooke at her desk in the dark, waves of blonde tickling her neck.
"I'm calling from home, Rod. I left a message on your machine yesterday."
He glanced over to the answering machine next to the toaster. The red light blinked back.
"What's the problem?"
"Like I was about to say, Emery phoned yesterday while you were in trial. She's insisting on seeing you and said she'd be at the office when we opened."
"I'll be in court."
"I know. But then she said something odd—that she couldn't give a shit about the Randal case. That's what she said; her words, not mine. But why else would she be calling? Right?"
"Yeah. She said that?"
"Yes. Maybe she learned about the thugs running the strip club and she has some angle."
"Unlikely. Did you get my discovery motion and memo prepared?"
"It's pretty much done."
"Good. I have the other files with me. Bring the motion to Schuster's courtroom. Just put it on counsel table."
"OK. What do I tell Emery when she shows up?"
Rod opened the refrigerator to see how much if any, milk was left. The furnace was finally humming, air now splashing warm through the overhead vent, ruffling his bed-head hair. He closed the refrigerator door.
"Tell her I'll call her when I get free. Listen, Brooke, just give the motion to Barry. He can bring it to me with the memorandum. I want the final, not another draft. Got it?"
"Yes."
"Ciao."
"Ciao."
He needed to get ready for Randal's early arraignment and get his discovery motions filed. That emptiness, a hollow feeling, made him feel weak. It happened each time; the feeling he wasn't up to the task. Rudy Randal didn't have it in him to do what they say he did.
The phone receiver was still in his hand, smudged gray from use. He had chosen to continue this work, knowing it tied him in knots, knowing that innocent clients that made him nervous.  He stuffed the anxiety, hung up the phone, and shuffled over to the farm sink, bending forward to look out at the river, feeling the cool of porcelain against his thighs.
Winter's chill seeped through the window frame. He cranked the knob open a tad so he could hear and feel the morning's bluster. Wet winter leaves rattled from the riverbank and slapped the side of the house. Piercing rain blasted with the sweep of machine gun fire. Cottonwood and vine maple on the riverbank, spent of all but the most persistent of leaves, bent against the gusts, limbs turning into shaking fists and cursing the cold.
But there was a freshness to this air. Rod breathed it in. Recently, there had been breaks between the rains. Sunrise was coming earlier too, promising longer daylight, dryer days.
The Jack Russell terrier from the house next door was hunting near the bank. She was after something. Her pint-sized body seized rigidly and her front paws furiously dug under a native grouseberry bush. Over the wind, she growled a terrier's growl. But she did not bark. She barked mainly at night, roughing him awake.
The barking didn't help when he needed more rest, and couldn't fall asleep without the help of his friend, Mr. Glenlivet––that smooth, single malt that turned vice into virtue with each sip. Scotch helped him endure regret, helped him forget the pain he caused his daughters. But when the divorce was over, and things were settled, he would no longer need the nighttime companionship. He was sure of that.
He cranked the window open wider. Cold, wet wind raced in to stir his hair and bite his face. The river sounded like rushing blood, that faint interminable pulse you hear when all is quiet, a constant swishing sound in cadence with your heart.. He viewed the muddy Willamette as being old and wise. And he often sat on its bank to ask it questions. And, if he listened, perhaps the river would offer a hint of what he could do to make Natalie well again. Yes, there were answers to these questions, if he listened. Cavanaugh had faith in that.
The Court Martial of Darren Sweet:  published in Sixfold, winter 2018
Escape from Waycross
:  published in Beckoning,  NSW, C
alif. Writers Club, 
Spring 2018