SLUGGER
By T.B. O'Neill
"Murder, or the attempt thereof, often occurs while others sleep." Thus begins a story where danger insinuates itself into the course of ordinary lives. Rod Cavanaugh is a thoughtful lawyer and a regular guy. Suited for his job, he adores his teenage daughters and loves his scotch. When the bottom fell out of his marriage, he thought he had enough to deal with — mistakes of his doing that needed to be corrected. But that was before he became the target of a client in a deadly game of cat and mouse and before the local criminal machine decided he was a threat.
THE WEALTH OF A NATION
By T.B. O'Neill
"…Well-timed for the era of the Donald Trump presidency." -Kirkus Reviews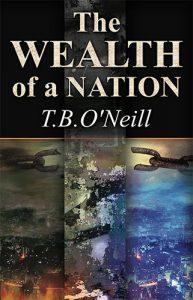 This quasi-dystopian tale and thriller takes place when the jobs are gone — that is, except for an elite class of Workers. Then, adding to the division, the city of Bakerton builds a Wall to separate the classes, and sets Nathan Englander, his family and friends, on a trajectory to change the order of things. Peace has been achieved all these years by promising Citizens their allotment, as Workers continue to toil for the greater good.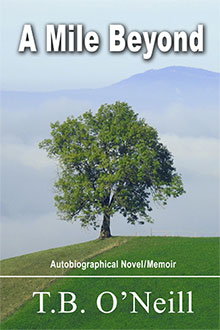 A MILE BEYOND
By T.B. O'Neill
Comming Soon!
Forced to leave the home they love, a family begins a journey that takes them across the country and back again, becoming nomads in an impoverished and dangerous land. In the 1950s, the nation's booming prosperity has passed them by, and they must find their way. Alcoholism, ignorance, and violence paralyze this broken, nomadic family and convince them that failure is their predetermined lot. But there is hope on the horizon, just over the hill … a mile beyond.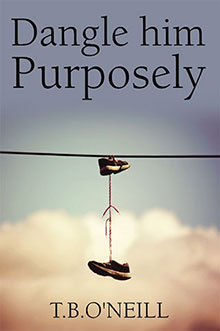 DANGLE HIM PURPOSELY
By T.B. O'Neill
After years of travel, Tim O'Neill's family finds a new home in small-town America. Adding to his luck, his father is sober, his parents employed, and his brother healing. At the dawn of the 1960s, life vibrates with change and promise. The nation's young president dreams of moon landings, while rock and roll booms over airways, and boys in tennis shoes shoot hoops on warm summer nights. But danger lurks in the shadows … he has felt it all along. A greater turbulence is on the horizon, rolling in like thunder with discord and promising violence. This is a tale of one boy's adventures during the calm and in the storm, as he prepares for manhood the way boys do in every era, whether in peace or in war.